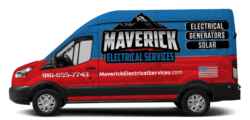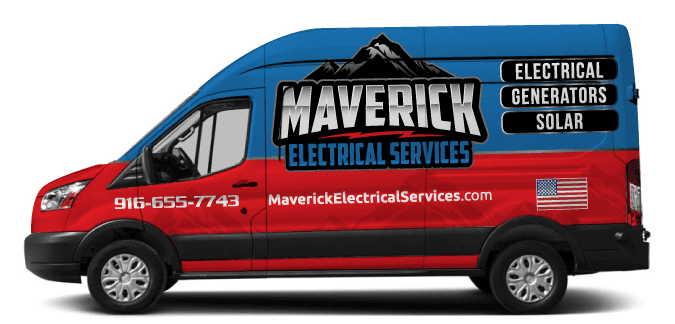 If you're looking for electric generator services in Lincoln CA, you can count on the experts at Maverick Electrical Services. We have years of experience with all types of generators and can help you choose the right one for your needs. We'll take care of everything from installation to maintenance, so you can rest assured that your home will always have power even during a blackout. Contact us today to learn more!
Lincoln CA's Trusted Electricians
At Maverick Electrical Services, we are highly experienced with automatic generators and can help you get one installed at your home in Placer County, CA. Having a backup generator can provide you with the peace of mind that your home in Placer County will always have power even if the main grid goes down. Our company is proud to offer high-quality services with a focus on innovation. We'll help you choose the right generator for your needs and get it installed professionally. We also offer emergency after-hours services whenever they are needed.
We can help with any job in the Sacramento and Northern California areas. We pride ourselves on being mavericks. A maverick is somebody that stands out from the rest of the crowd, and a maverick sets itself apart from the competition. That's why Lincoln CA trusts our team for electrical service!
We're Known For:
Getting jobs done right the first time

Working with reliable products

Offering sound advice

Using high-quality parts and materials
Working With Automatic Generators
Having an automatic generator at your home in Lincoln can provide you with uninterrupted power. These units will turn on automatically when normal sources of power fail. You won't have to worry about being home during a power outage in order to turn your generator on. Maverick Electrical Services can offer advice on various units available in Lincoln CA and can help you make informed decisions. We offer flexible financing options on approved credit and have specials to save people even more money.
Trusted Products from Leading Automatic Generator Manufacturers
Maverick Electrical Services has a wide range of products to offer. We have experience with electric and automatic generators, and you can be sure that the installation process is completed properly the first time. We use high-quality parts and materials in all of our work to ensure that your home is always safe. Our focus on innovation ensures that we use the best and most efficient name-brand products for our customers.
Cummins Automatic Generators
Cummins is a well-known name in the world of generators. Their products may be used as a standalone generator or as part of an emergency power system. With a Cummins house generator or portable generator, your family will never have to worry about going without electricity.
Generac Automatic Generators
If you are worried about a power outage, you should consider getting a Generac home backup generator. These generators run on natural gas or liquid propane fuel and are installed outside just like a central air conditioning unit. Generac was the first company to create this type of generator, and they continue to be the most popular choice among homeowners.
Maverick Automatic Generators
Maverick is a leading manufacturer of generators to assist homeowners and businesses maintain access to a vital resource in today's technology-driven world. A Maverick backup generator helps you protect your family, staff, and customers from harm in the event of a power outage.
Kohler Automatic Generators
Kohler has defined the global standard of power technology. Their products are well suited to industrial power systems for emergencies, as well as prime power- and energy-management solutions worldwide – from data centers and hospitals to water treatment facilities and government offices. 
Brigs & Straton Automatic Generators
You can use a standby generator from Briggs & Straton to make sure your family is safe during an emergency. If it's cold outside, you can stay warm. If it's hot outside, you can stay cool. You can also watch your favorite TV show and cook dinner. You will save money on your homeowner's insurance if you keep your lights and security system on. This will also keep thieves away and increase the value of your property.
Experienced Lincoln CA Electricians
Our electricians are highly trained and ready to work with all makes and models of automatic generators in Lincoln CA. With a third-generation electrician on our crew, we're prepared for jobs of any size. We use our high level of knowledge and skill to resolve any issue that we come across. We're able to work efficiently without cutting any corners with our workmanship. The electricians from Maverick Electrical Services take pride in all of the work they perform in Lincoln.
Focus Is Put On:
Being friendly and professional

Being on time to appointments

Working carefully

Cleaning up our work area when done
Trusted Electrical Company
Maverick Electrical Services wants to be the company you turn to when you're in need of generator services for your home. Our goal is to create long-term and trusting relationships with everyone we have the chance to serve. We provide personalized services so that we can meet the unique needs of each of our customers. Providing a great experience is important to us.
To Learn More About Our Work With Automatic Generators In Lincoln CA And The Surrounding Areas, Give Maverick Electrical Services A Call Today.