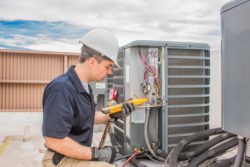 When you need HVAC services in Carmichael, CA, call Maverick Electric, Heating & Air Services. We have been serving the residents of Northern California for three generations and would love to be of help to you. Call to make your heating and cooling services appointment today.
Don't suffer through a hot and dry summer or sit in your home chilled when the temperature drops during the winter months. Our heating and air services ensure you remain comfortable in the home all year round. Contact us today to discuss your HVAC needs, and we will get you on the schedule right away.
Our HVAC Services
We offer a range of HVAC services, including furnace repair and AC installation. Regardless of what you need with this system, we can help. Call us today to learn more about the following HVAC services in Carmichael, CA. 
Air Conditioning Services in Carmichael
When the thermostat reads 93 degrees outdoors, which happens often in July, you may want to return to your cool home. If you walk into the house and it is sweltering, call us. We can help you bring the temperature down to a comfortable level with the help of the following services. We work on both heat pumps and a ductless mini split. 
AC Installation
You may find you need an AC installation in Carmichael to cool the home again. Our team always tries an AC repair before recommending a new unit. However, if a repair won't suffice, we'll happily recommend an AC replacement and handle the AC installation for you. 
AC Repair
Your HVAC system works overtime during the summer months to keep the home cool. If you notice it isn't working properly, call us for an AC repair in Carmichael, CA. As the system contains many moving parts, you need the help of our heating and cooling services team to learn where the problem lies. Once this has been determined, our technician will make the AC repair quickly and efficiently. 
AC Maintenance & Tune-Ups
The easiest way to avoid the need for an HVAC repair or AC replacement is to schedule regular AC maintenance and tune up visits in Carmichael. Not only will this reduce the risk of needing an HVAC repair, but regular maintenance will also extend the lifespan of the unit, saving you money.
Heating Services in Carmichael
While Carmichael isn't known for frigid winters, you will appreciate having a working heating and air unit when the temperature drops outdoors. Contact us today to schedule an appointment to have your heating system inspected, so your home is cozy when the weather is unpleasant outside. What other furnace services do we offer in Carmichael? 
Furnace Installation & Replacement
If you have a furnace in the home, have it maintained regularly. This not only ensures it works properly when you need it, but this safety inspection uncovers any potential problems that could put you and your loved ones at risk. If we find any problems, we'll let you know. This allows you to plan and budget for a furnace replacement or furnace installation project in Carmichael. We only recommend a furnace replacement or furnace installation, however, when other options won't resolve the problems you are experiencing. 
Furnace Repair
Let us know if you are having problems with your furnace. We'll get someone out to inspect the unit and make the furnace repair in Carmichael. Repair is always the first option when we visit a customer's home. 
Furnace Maintenance & Tune-Ups
The easiest way to avoid the need for a repair is to make use of our other furnace services. With regular furnace maintenance, you can reduce the risk of problems with this system. Call and schedule your furnace maintenance in Carmichael today or a tune up. This is one visit you should never delay, as doing so could lead to a high repair bill. 
Additional HVAC Services in City
Thermostats

Heat Pump Installation & Repair

Indoor Air Quality Services

Air Purification Services

Vent Cleaning
Need HVAC Services in Carmichael, CA? Call Maverick Electric, Heating & Air Services Today!
Our expert team is ready to assist with all your HVAC needs. We can help you install a ductless mini split, maintain an existing central air conditioner, or tune up a heat pump. The team also installs heat pumps, furnaces, and ductless mini splits. All you need to do is ask.
When you choose to work with us, you can count on the job being done right the first time. We are shockingly good at what we do. Don't believe us, however. Check out what our customers have to say about our company. Our goal is to ensure you are as satisfied as they are, regardless of what job you ask us to take on, as you always come first with us.