When you need a commercial electrician in Roseville, CA, look no further than Maverick Electric, Heating & Air Services. Our name says it all. We stand out in the crowd and offer the services our clients want and need.
We take on any job our customers need and will ensure we complete the commercial electrical work properly the first time. Thanks to our experience in the industry, we can handle any commercial electrical repair or installation project for customers, providing reliable results when doing so.
Customers love that we service all makes and models. They only have one commercial electrical contractor to call, regardless of the work that needs to be done.
Our team provides outstanding customer service, and we focus on finding innovative products and solutions. Clients know they can rely on the work we do, as we only use trusted parts and materials. How can we be of help to you?
Commercial Wiring and Rewiring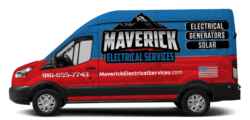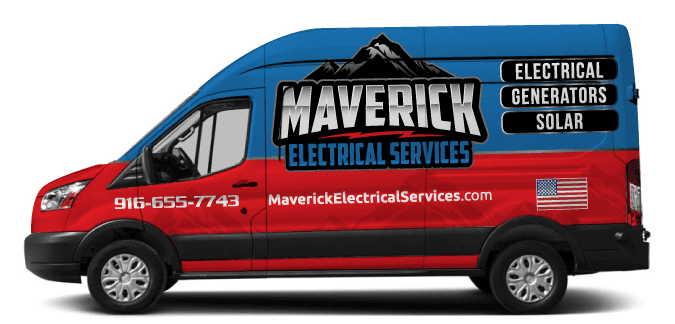 A commercial facility only runs properly when the electrical system is in good working order. If you are having any problems with your system, let us know. We'll send a commercial electrician out to diagnose the problem and make repairs.
Our commercial electrical contractor can take on any job regardless of size. We help clients in need of electrical remodeling and can upgrade the service panel or fuse box in your facility. Ground fault and arc fault circuits may be a concern, and our commercial electrician will address them.
Let us know when you need an appliance or meter socket installed, as we can help. Our team will troubleshoot an electrical problem or install a ceiling fan. It's all a matter of what you need.
We commonly receive requests to have automatic transfer switches installed, as you don't want any interruption in your operations when a power failure occurs. Reach out if you don't have a generator. We can install a standby or automatic generator in your facility.
Requesting a Commercial Inspection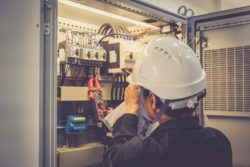 You may not know what you need. Some business owners aren't aware of the products and services we offer. The best way to learn how our commercial electrical company can be of help is to call and request we send a commercial electrician to your facility.
Our electricians conduct commercial electrical inspections regularly. During this inspection, they will help you identify areas of concern and make recommendations on products and services that might be of benefit to you in Roseville, CA.
For example, our commercial electrician might recommend new security lighting and cameras. Technology has come a long way in recent years and upgrading these devices may help you save money while improving the safety and security of your facility, employees, and visitors.
The technician from our commercial electrical company might also recommend installing smoke and carbon monoxide detectors and additional interior lighting. When completing commercial electrical inspections and making recommendations, our commercial electrical technician ensures all components comply with the electrical code, as you don't want problems once this work is done.
Why Choose Maverick Electric, Heating & Air Services as Your Commercial Electrician in Roseville, CA?
Many companies today offer commercial electrical services. We can handle any commercial electrical repair or installation project, but so can many of our competitors. Why should you choose us over them?
We only recommend those products and services that you need, as your interests always come before ours. Our electricians undergo regular training to ensure they are current on electrical safety codes, familiar with the latest products and services, and know how to handle any situation that arises when they are on the job.
Communication is key to customer satisfaction. Every employee working for our company is prepared to answer all questions because you need the facts to make an informed decision regarding which services will benefit you.
Every electrician working for us will arrive at your appointment when expected and act professionally while at your facility. They are meticulous and never overlook any details. However, they complete jobs efficiently, as they know you have other things to do. The goal is to disrupt operations as little as possible.
We go above and beyond the standard commercial electrical services. For example, if you wish to install an electric vehicle charger on your property to better meet the needs of clients, we can help with this.
If you want to offer customers access to the internet, we can install the wiring needed to achieve this goal. All you have to do is ask and we will handle any electrical service desired.
Call Maverick Electric, Heating & Air Services for all your commercial electrical needs. We are here to help and offer emergency after-hours services as needed. Our company has been serving the area for three generations now and cannot wait to be of help to you. Let us know how we can serve you today.