With an abundance of online do-it-yourself tutorial videos and how-to articles, many homeowners are tempted to perform their own electrical repairs and installations. While certain jobs, such as light bulb and switch plate cover changes, can be done in-house, other tasks are better left to the experts. Contact the team at Maverick Electric, Heating & Air Services to schedule an in-home estimate.
Diagnosis and Repairs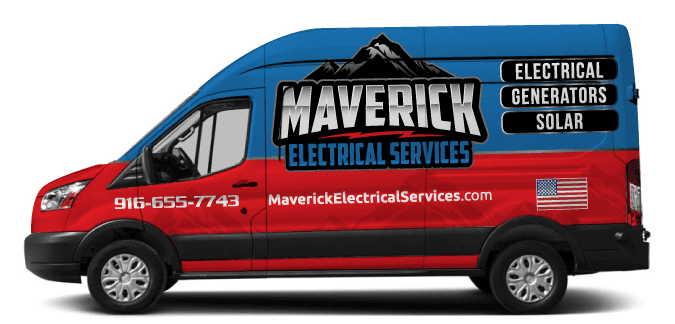 Finding the cause of an electrical problem can be difficult, especially for an inexperienced homeowner without the right knowledge and tools. DIY diagnosis isn't just a challenge; it can also be dangerous. Let a professional and friendly residential electrician save you money and time by diagnosing and resolving your electrical issues. All our technicians carry state licenses and mandatory insurance, which means they'll solve your problems safely and accurately. Contact us today to book an appointment with a local electrician.
Code Compliance
Keeping Roseville's homes in line with current electrical codes is a crucial step in keeping families safe. Call a local electrician today to learn how electrical code compliance work improves safety and makes appliances easier to use.
Upgrades Done by a Residential Electrician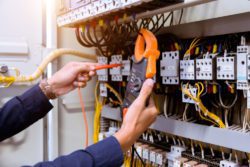 Today's homeowners have nearly endless options when they look for ways to improve their homes' usability and comfort. From ceiling fans and lighting fixtures to electrical panels, additional circuits, and EV charging stations, we can do it all. With our residential electrical services, Roseville homeowners can save energy, increase safety and security, and save money.
Security and Safety Inspections
Our team of licensed electricians are skilled at finding hidden wiring problems and decreasing the risk of fire and electrical shock. Your family's safety is our top priority, and that's why we offer no-obligation safety inspections. Contact a certified electrician today to find out about our safety inspection services.
Outdoor and Specialty Lighting
Increase your home's curb appeal and resale value by installing outdoor and specialty lighting fixtures. Our licensed electricians can customize lighting plans based on your home and family's specific needs. Call or click today to request a no-obligation estimate for light fixture installation from a residential electrician.
Home Energy Efficiency
Make your home more energy efficient and help the environment with solar solutions and Energy Star-compliant upgrades. Our team of local electricians knows what it takes to help Roseville, CA's homeowners save money, and we want to help you, too. Call now to schedule a home energy audit by a residential electrician.
System Maintenance
The easiest way to reduce the risk of safety issues and power outages is to schedule routine electrical system maintenance. Regular upkeep is cheaper than system replacement by an emergency electrician, and we can help you schedule it. Contact our team now to request a visit from an electrician for residential maintenance. 
Home Renovations and Additions
The right renovation or addition can add value and versatility to a home, and we're here to help bring your vision to life. Whether you're adding a room or remodeling from the inside out, the team at Maverick Electric, Heating & Air Services has the skills to do the job right. Contact us by phone or email to get an estimate for wiring installation and upgrades.
Great Service Makes a Big Difference
While we know that Roseville, CA homeowners have lots of choices when it comes to finding an electrician for residential repairs and installations, we believe that we have something more to offer, including:
A focus on safety.

Hiring licensed electricians will protect your home and family from the risks of substandard work due to faulty equipment, structural damage, and incompetence. Our team members will inspect your wiring and components thoroughly, solving existing problems and preventing new ones.

Accountability.

Licensed, insured emergency electricians must pull local permits for the work they do, and every job is subject to a detailed inspection. While it may seem like a time-consuming effort, it's worthwhile, and it holds us accountable.

Guaranteed satisfaction.

Professional electricians like those at Maverick Electric, Heating & Air Services offer superior workmanship and do the job right the first time.
Our team of residential electricians offers a comprehensive range of services that meet homeowners' electrical needs. A certified electrician can solve almost any problem, from minor issues to system-wide challenges, and we pride ourselves on giving every customer the information they need to make informed decisions.
Contact Us
Here at Maverick Electric, Heating & Air Services, our team has what it takes to handle all types of residential electrical maintenance, installation, and repair jobs. Call for more details or click to schedule your next service visit from a residential electrician.