Residents of Roseville know the summers can be hot. The days are mostly clear, which means you probably want to go outside and enjoy the sun and fresh air. However, when you head back inside, you expect to enter a cool home.
If your air conditioner is acting up, contact us at Maverick Electric, Heating & Air Services, your go-to HVAC company in Roseville, CA. We'll send someone out to handle the AC repair so that you can get relief from the heat.
We are here to help when you need us, and we also work with commercial customers in need of air conditioning repair. Make this call today. 
Signs You Need an AC Repair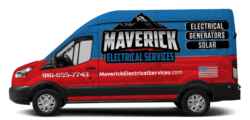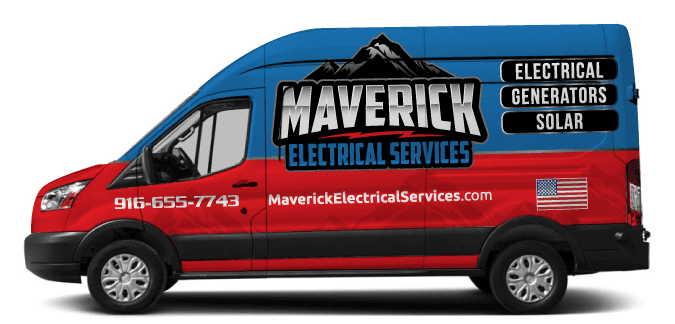 Maintenance helps to reduce the need for an air conditioner repair. However, regular maintenance and tune-ups cannot eliminate all issues. For example, a powerful storm can damage your air conditioner. Regardless of what the problem is, we will complete the AC repair for you. When should you make this call?
Rising Energy Bills
Let us know if your energy bills are increasing and you aren't using the HVAC system more. This is often a sign that you need an air conditioning system repair. Don't worry. We know how to fix it.
Warm Air Coming from the Vents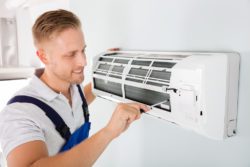 We often get calls for emergency AC repair in Roseville when the cooling system blows warm air from the vents and you have the thermostat set to cooling. This is often the result of a refrigerant leak or a compressor that isn't working right. We will happily fix either problem for you with the help of our air conditioning repair service.
Restricted Air Flow
Several things can lead to restricted airflow from the HVAC system and uneven cooling throughout the home. Before calling us, check the filter to see if it is dirty or clogged. Look around the indoor and outdoor units to make certain they remain unobstructed, and check all air ducts and registers to see if they are closed or blocked.
Call us if you cannot find the source of the restricted air flow. We'll send a technician out to diagnose the problem and make the air conditioning unit repair. We may need to repair or replace a slowing fan motor or clean components that are dirty during this air conditioning service.
 Another problem we often encounter when we are called for an AC repair is an improper refrigerant charge. We'll fix the issue and have your home cooling properly again rapidly.
Call today to learn more about the benefits of central AC installation. Our team will answer your questions and provide more information about this option. Make this call today, so your home will be cool and comfortable once again. 
Water Leaks
You never want to find a puddle of water in the home. You may have a leak if this water is near an HVAC component. Water can damage a home significantly in little time, so call us for an emergency AC repair if you're in Roseville, CA.
We typically find one of two things has caused this leak. Either there is a blockage in the condensate system or you have a blockage or break in a drain tube. We train every technician on our team to handle any air conditioning repair, so you can rest easy knowing water won't do harm to the home.
Unusual Noises
Unusual noises from the air conditioner are alarming. The last thing you want to find is the system is on the verge of breaking down. When you hear one of these noises, turn the system off and call us right away. We'll have a technician come out for an HVAC repair service call.
The noise could be a part that has come loose or fallen off if you hear a banging or clanking sound from the unit. When the noise is more of a whistle or screech, you probably have a refrigerant leak. We'll find the source of the noise and provide the HVAC service that you need.
We will make this HVAC repair, whether it is a central air conditioner repair or a ductless AC repair. Maverick Electric, Heating & Air Services is the only company you need to call for help with your AC unit.
Unfamiliar Odors
Strange odors coming from the air conditioner are always worrisome. This could be anything from a short in the circuit board or motor to mold and mildew growing in the unit. Call us for an AC repair or any other HVAC services. We'll determine the problem and fix it.

Excessive Humidity in the Home
Air conditioners are designed to remove moisture from the air as it cools the home. If it doesn't do so, call for an air conditioner repair service visit. Our expert technicians will complete the AC unit repair, so your home or business is no longer muggy.
Our team undergoes training to ensure they can handle a ductless AC repair as easily as a central air conditioner repair and vice versa. We understand you need a functioning and energy-efficient air conditioner and that is what we provide with our home AC repair or a commercial repair.
Let us handle your AC repair. We cannot wait to be of help to you. Don't hesitate to call us if you are in need of air conditioning services in Roseville, Rancho Cordova, Sheridan, or other areas in Northern California. We'll also happily take any Roseville AC installation, air conditioning replacement, or any other air conditioning services you may need.