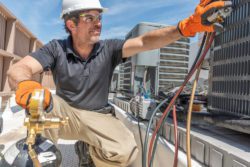 When the summer heat appears, the AC system is going to work extra hard to keep the home cool. Unfortunately, the strain on the system can cause issues that will need to be repaired. We can help with any repairs that may be needed, as well as installations and maintenance. If you need any HVAC Services in Rancho Cordova, CA, we'll arrive fast and make sure the job is done right, so you can enjoy a cool and comfortable home.
We can help if you need any HVAC Services in Rancho Cordova, CA. Be sure to contact us as soon as possible, there's no need to suffer in the heat of summer.
Our HVAC Services 
The HVAC system works hard throughout the year to keep the home comfortable for everyone. As it works, parts can wear down and break. When this happens, prompt HVAC repair is needed to get everything working again and prevent it from getting too hot or cold inside the home. We can help with any HVAC repair, as well as other HVAC services you may need to keep your home comfortable throughout the year. 
Air Conditioning Services in Rancho Cordova
You don't want to come home at the end of a long day to a house that's too hot, but that's what can happen if the AC system stops working. If you're worried about the air conditioner, we can help. We offer a variety of services, including installations, repairs, and maintenance, to make sure your system will work as expected and keep your home cool. 
AC Installation
An AC replacement may be recommended if the cost to repair is too high or if your system is more than 15 years old. Though we try to repair first to help you save money, an AC installation may be more cost-effective in the long run, as you'll save on repairs and energy costs. We can help you pick out an AC replacement that works for your home and budget. We'll then do an expert AC installation in Rancho Cordova. 
AC Repair
Strange sounds, odd noises, rapid cycling, leaks, and more are signs that AC repair is needed. It's never a good idea to put off repairs since the issues will just get worse over time. Instead, if your system isn't working right, call us for fast AC repair in Rancho Cordova and get it working again. 
AC Maintenance & Tune-Ups
When you have AC maintenance done each year, you can prevent breakdowns and other issues. You can also help make sure the system is as energy-efficient as possible, helping you save on energy costs. Schedule AC maintenance and tune-ups in Rancho Cordova with our team to help keep your system in great shape. 
Heating Services in Rancho Cordova
Furnace Installation & Replacement
Like with the air conditioner, if the furnace is older or breaking down more frequently, it's time to think about a furnace replacement. In most cases, we can do the furnace installation fast, so you can stay warm throughout the winter. We'll help with choosing the right furnace replacement for your home. If you're thinking it's time for a furnace installation and replacement in Rancho Cordova, contact us today. 
Furnace Repair
Anything unusual with the furnace should be inspected and fixed right away to keep it from getting worse over time. We can help with any furnace repair you might need. If your furnace isn't working right or it's having trouble keeping the home a consistent temperature, call for furnace repair in Rancho Cordova now. 
Furnace Maintenance & Tune-Ups
Expert furnace maintenance involves checking for and replacing worn parts, so it can help keep your system running throughout the winter and make sure it's as efficient as possible. If you haven't had any maintenance done in recent years, schedule furnace maintenance and tune-ups in Rancho Cordova today. 
Additional HVAC Services in Rancho Cordova
Thermostats

Heat Pump Installation & Repair

Indoor Air Quality Services

Air Purification Services

Vent Cleaning
Need HVAC Services in Rancho Cordova? Call Maverick Electric, Heating & Air Services Today!
The right help can make all of the difference when your HVAC system isn't working as expected. Whether you need help with repairs, a new installation, or maintaining the system, the team at Maverick Electric, Heating & Air Services can help. With expert training and years of experience, we know exactly what to do to keep your system running and your home comfortable.
Let us know if you need any HVAC Services in Rancho Cordova, CA. We can help. Contact us at (916) 398-2768 now.