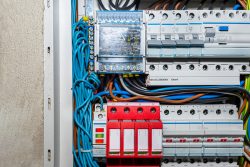 Lightning strikes, power line problems, and even your own high-powered appliances can cause a devastating surge of electricity. Protect your home with Maverick Electric, Heating & Air and our premium whole-house surge protection service. We aim to keep Roseville, CA, homes safe from the catastrophic damage that electrical surges can inflict on appliances and electronics. Still wondering why it's crucial or how surge suppressor installation works? Picture a situation in which every electrical device in your house is fried — we prevent that. 
Let us fortify your home and help you dodge hefty repair or replacement bills. Call us at  (916) 398-2768 or reach out online to ensure your home's safety today.
Understanding Power Surges and Their Impact
A power surge is a sudden and unexpected spike in your home's electrical current. It can be caused by various factors. Power surges can inflict immediate, severe damage to your home's electronics and appliances, causing them to malfunction or completely fail. 
Consider your home electronics — everything from your computer to your refrigerator can be affected. Repairing or replacing these items can be incredibly costly, not to mention the inconvenience of losing these essential household items. This is where a home surge suppressor comes into play.
In addition to causing damage to electronics and appliances, power surges can also pose a significant safety risk. When a power surge occurs, it can lead to electrical fires if not properly managed. This makes whole-house electrical surge protection an essential safeguard to protect your home and family from these unforeseen and potentially dangerous electrical events.
Whole-Home Surge Protection vs. Standard Surge Protectors
Many homeowners may already have standard surge protectors plugged into various outlets around their homes. While these can offer some degree of protection for individual electronics, they don't provide comprehensive coverage. Standard surge protectors are designed to protect specific devices from minor power fluctuations. However, they are often incapable of withstanding larger, more potent surges, leaving your home vulnerable.
On the other hand, whole-home surge protection is a more robust and comprehensive solution. It is a centralized system installed directly to your home's electrical panel, effectively functioning as an electrical panel surge protector. Instead of just protecting individual devices, it protects all the circuits in your house. 
When a surge occurs, the whole-home surge protector identifies the surge and reroutes the excess electricity back into the ground, sparing your electronics from damage. Panel surge protection not only protects your electronics but also offers peace of mind, knowing that your entire home is protected from potential surge-related damages. This form of whole-house surge protection installation is an investment in the longevity of your electronics and the safety of your home.
Customizing Whole-House Surge Protection for Your Needs
At Maverick Electric, Heating & Air, we understand that every home has unique needs and requirements. That's why our whole-house surge protection service can be tailored to fit your specific circumstances. We can customize our installation process based on the complexity of your electrical system, the type and number of electronics you use, and your personal concerns about surge protection. 
This personalized approach ensures that every aspect of your home's electrical system is adequately safeguarded. By tailoring our whole-house surge protection installation to your specific needs, we can provide a more effective service that aligns with your lifestyle and offers you greater peace of mind.
Frequently Asked Questions
What Are the Pros and Cons of Whole-House Surge Protectors Versus Standard Surge Protectors?
While whole-house surge protectors provide a high level of protection and cover all devices in your home, they have a higher price tag and require professional installation. Standard surge protectors, on the other hand, are more affordable and easy to install, but they only protect the devices directly connected to them and may not offer the same level of protection as a whole-house system.
Can I Install a Whole-Home Surge Protector Myself or Do I Need a Professional?
While it's technically possible for someone with electrical expertise to install a whole-home surge protector, it's generally recommended to hire a professional. Incorrect installation can lead to ineffective protection and can pose safety risks.
Why Is Customizing Whole-House Surge Protection Important?
Customizing whole-house surge protection ensures that your specific needs and circumstances are met, offering more effective protection and greater peace of mind. Tailored installations take into account the complexity of your electrical system, the type of electronics you use, and your personal concerns about surge protection.
Safeguard Your Home With Maverick's Whole-House Surge Protection in Roseville, CA
With Maverick Electric, Heating & Air, you not only get superior whole-house surge protection but also personalized service tailored to meet your unique needs. We stand out with our commitment to delivering comprehensive, effective solutions that provide total peace of mind. Our understanding of the complex nature of home electrical systems, coupled with our dedication to ensuring the longevity of your appliances, HVAC systems, and the safety of your home, sets us apart from the competition. Don't leave your home's safety to chance. 
Choose us for robust protection against power surges and safeguard your home today with our efficient panel surge protection and breaker surge protection. Fill out our contact form or call us directly at  (916) 398-2768 to get started.
To Find Out More About Our Sacramento Area Electrical Repair Company and Our Service, Call Maverick Electric, Heating & Air today.