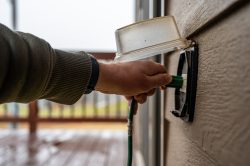 Are you in search of a reliable, high-quality electrical outlet installation service in Roseville, CA? Look no further than Maverick Electric, Heating & Air! We specialize in providing top-notch services to our clients, ensuring their electrical systems are safe, efficient, and up-to-date. Trust us to deliver superior workmanship coupled with outstanding customer service, every single time.
Need expert electrical outlet installation in Roseville, CA? Don't hesitate — contact us online or call now at (916) 398-2768 for the best services in town!
Outstanding Electrical Outlet Installation Services at Maverick Electric, Heating & Air
At Maverick Electric, Heating & Air, we offer comprehensive electrical outlet installation services to our clients in Roseville, CA. Whether you need AFCI outlet installation, GFCI outlet installation, new outlet installation, outdoor outlet installation, wall outlet installation, outlet box installation, or dryer outlet installation, we have you covered. Our team of experienced professionals is trained to handle all kinds of outlet installation services, as well as a wide array of residential and commercial electrical services, ensuring the highest quality results for your home or business. 
What Happens During Electrical Outlet Installation Service
When you engage us for an electrical outlet installation, the process begins with a detailed evaluation of your electrical needs and existing systems. Our skilled team considers your specific requirements, whether it's an AFCI, GFCI, wall, outdoor, outlet box, or dryer outlet installation.
Once the appropriate outlet type is selected, we proceed with the installation. This involves ensuring a safe environment by turning off the electricity, adhering to local codes and regulations during the installation, and conducting rigorous tests post-installation to confirm functionality and safety. With our professional service, you can rest assured that your new outlet will be installed correctly and safely.
Signs It's Time to Invest in Electrical Outlet Installation Service
Being aware of the signs that signal a need for a new outlet installation can prevent electrical mishaps and offer convenience. Here are the common indicators that suggest it might be time for a new outlet installation:
Over-reliance on extension cords:

Extension cords are great for temporary solutions, but if you find yourself constantly relying on them for everyday power needs, it's time to consider new outlet installation.

Frequent tripping of circuit breakers:

This can indicate that your outlets are overloaded. New outlet installation can distribute the power load more evenly, reducing the risk of tripping the circuit breaker.

Two-prong outlets: Modern electrical devices come with three prongs for a reason – the third prong is a ground wire for added safety. If your home is filled with old, two-prong outlets, consider upgrading to three-pronged ones.
Absence of GFCI outlets in wet areas:

If outlets in your bathrooms, kitchen, laundry room, or outdoors are not GFCI outlets, they need to be replaced. These outlets can detect current imbalances and shut off power to prevent shocks.

Charred or discolored outlets:

This can be a sign of electrical faults behind the wall. It's not safe to continue using these outlets; instead, they should be replaced promptly.
Frequently Asked Questions About Electrical Outlet Installation
How Often Should Electrical Outlets Be Replaced?
There isn't a set timeframe for outlet replacement as it largely depends on usage and the conditions in your home. However, if your outlets are older than 15 years or if you notice signs of wear such as loose fittings and scorch marks, or if they no longer securely hold plugs, it may be time for replacement.
Can I Install or Replace an Electrical Outlet Myself?
While it may seem like a simple task, installing or replacing an electrical outlet involves knowledge of electrical systems, local codes, and safety procedures. Incorrect installation can result in fire hazards or electrocution. It's best to hire a professional electrician for this task to ensure safety and proper functioning.
How Many Outlets Can Be on One Circuit?
The number of outlets on a single circuit depends on the total load of the appliances you plan to use. As a rule of thumb, a standard 15-amp circuit can safely handle about 10 outlets for general use. However, for circuits dedicated to heavy appliances, fewer outlets are recommended.
How Long Does It Take to Install an Electrical Outlet?
On average, a professional electrician can install a new electrical outlet in about one to two hours, depending on the complexity of the installation and the condition of your electrical wiring system. However, this can vary and should be confirmed with your service provider.

Trust Maverick Electric, Heating & Air for Your Electrical Outlet Installation Needs in Roseville, CA
If you're looking for safe and efficient electrical outlet installation, your search ends with Maverick Electric, Heating & Air. Our team is committed to delivering top-quality services that prioritize the safety and satisfaction of our clients in Roseville, CA. Whether you require new electrical outlets or want to upgrade existing ones, trust our trusted experts for all your electrical needs. We'll ensure that your home or business is functioning smoothly and that you're satisfied with the level of service we provide.
Don't compromise the safety and efficiency of your home or business. For reliable electrical outlet installation in Roseville, CA, contact us here or simply call Maverick Electric, Heating & Air today at (916) 398-2768. 
To Find Out More About Our Sacramento Area Electrical Repair Company and Our Service, Call Maverick Electric, Heating & Air today.