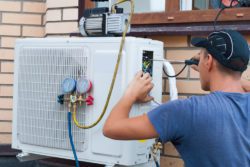 Keeping the home comfortable requires a working HVAC system. Whether it's hot outside during the summer or chilly during the winter, a working HVAC system keeps the temperature inside consistent and comfy. If your HVAC system isn't working right or could use an upgrade, we offer HVAC Services in Lincoln, CA. We'll help make sure the system is working right for you.
Don't wait to call if you need HVAC Services in Lincoln, CA. Contact us at (916) 398-2768 for any HVAC services.
Our HVAC Services 
We want to make sure you always feel comfortable within your home, which is why we offer expert services like HVAC repair, installations, and maintenance. We'll do as much as possible to keep your system running, whether you need an HVAC repair or you're ready to upgrade to a more energy-efficient system. 
Air Conditioning Services in Lincoln
Air conditioning is crucial during the summer months. If your air conditioning isn't cooling the home properly, you may need repairs, or it might be time to consider getting a new unit. Our team can help you with any AC services you might need, including regular maintenance to keep your system in excellent shape and ensure it'll work when you need it. 
AC Installation
Eventually, a new AC unit will be needed. If your system needs major repairs to get it working again, it's time to consider an AC replacement. A new AC installation may also be needed if you have an older unit and want one that's more energy-efficient or if you'd like to prevent it from breaking down. We can help you choose the right unit for an AC replacement. We can also help with the AC installation in Lincoln to make sure it's done right. 
AC Repair
Repairing the unit may be needed at some point, as parts do wear down and break. If your AC unit is making odd noises, smells funny, is not blowing cold air, or is showing any other signs of an issue, you'll want to request AC repair right away. It's always better to have AC repair in Lincoln done fast to prevent the issue from getting worse. 
AC Maintenance & Tune-Ups
Parts wear down, which is why it's important to have AC maintenance done regularly. Our team can help with AC maintenance and tune-ups in Lincoln. This involves a thorough inspection of the system, repairs or replacements for worn parts, and information on what may be needed to keep the system running. With the right care, your unit won't be as likely to break down. 
Heating Services in Lincoln
Furnace Installation & Replacement
The furnace is needed to keep the home warm during the winter, so if it's getting older or it's not working as well as it used to, it might be time to consider a furnace replacement. It is recommended to look into a furnace installation if the cost of repairs is more than half the cost of a furnace replacement to save money in the long run. Let us help with the furnace installation and replacement in Lincoln. 
Furnace Repair
Don't ignore issues with the furnace, as they'll just get worse over time. Instead, if the furnace doesn't seem to be acting right or if it has odd smells or noises, call us right away for furnace repair. Fast furnace repair in Lincoln can keep you warm throughout the winter. 
Furnace Maintenance & Tune-Ups
Maintenance will help keep the system running longer and prevent many types of breakdowns. If you want to keep your furnace running, it's a good idea to have furnace maintenance done before winter begins. Call us to schedule furnace maintenance and tune-ups in Lincoln.
Additional HVAC Services in Lincoln
Thermostats

Air Purification Services

Vent Cleaning
Need HVAC Services in Lincoln? Call Maverick Electric, Heating & Air Services Today!
We want to make sure you can stay comfortable in your home no matter what the temperature is like outside. At Maverick Electric, Heating & Air Services, we have the experience and training needed to tackle any issue you might have with your HVAC system. We also offer other services to help extend the life of your system and can help if you need to replace or upgrade the AC or furnace. Let us help keep your home comfortable all year long.
Let us know if you need any HVAC Services in Lincoln, CA, to keep your system running. Contact us at (916) 398-2768 now. 
Other Services We Offer in Lincoln
Generator Services
Electrical Services