May 15, 2021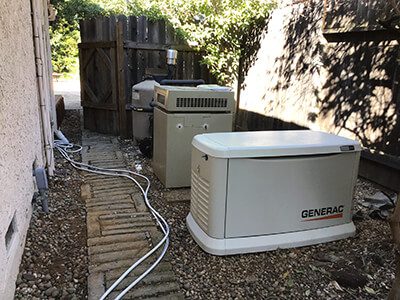 How Does A Home Generator Work?
We often take electricity for granted. Rather, we take it for granted until we lose it. It's never an ideal situation to be without power. That's why many people throughout Placer County seek the assistance of our team at Maverick Electric, Heating & Air with home generators.
A home generator can be a backup source of power while the electrical grid is down. It can provide you with a way to keep your fridge, air conditioner or heater, and other important appliances up and running during a power outage. To anyone with a medical condition requiring refrigeration of medication, sterilization of medical equipment, or dependence on a device for life support, electricity is crucial.
Two Types of Generators
You can either get a portable or a standby generator. Most portable generators run on gasoline, potentially using up to 15 or 20 gallons a day. These types of generators can be moved around when needed, and they must be manually started. A standby generator would be installed by a company like ours, and it would start automatically whenever the power is out. In general, these run on natural gas or propane. Standby generators are usually more expensive than their counterparts, but they are more convenient to use.
Method of Operation
Regardless of which type you have, the basic principles will be the same. Generators are able to create electrical energy thanks to electromagnetic induction and a motor. They run on various types of fuel that are used to power a motor. The motor is used to create mechanical energy, and because there's a conductor coil and magnet as part of the unit, a flow of electric current is produced that can power your appliances.
Your Local Resource
If you're interested in getting a home generator installed, Maverick Electric, Heating & Air is available to help anyone in or near Lincoln, CA. We have experience with a variety of electrical services, including those related to generators. You can also count on us for assistance with wiring, electrical panels, electrical repairs, security systems, lighting, fans, and more. Give us a call today to schedule an appointment or to ask us any questions that you may have.