September 7, 2023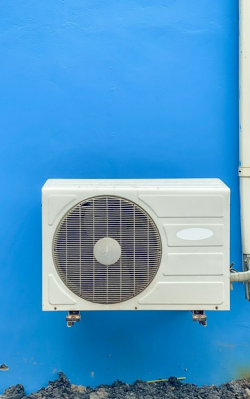 When the summer heat hits, you need more than just a fan to keep your house cool. It's time to start thinking about air conditioning.
When considering a new AC system, one of the first questions people ask is, "How long will the air conditioning installation process take?" This article will discuss how to get a new AC installed, along with factors that could affect how long the process takes.
What to Expect During the AC Installation Process
Before you decide to buy a new air conditioning unit for your home or other building, you should know what to expect of the installation process.
1. Book an HVAC consultation
The first step before getting a new air conditioner is to set up a consultation with one of our experienced HVAC contractors. The contractor will come by to take measurements and ascertain which type of unit will best meet your cooling needs.
After you have decided on the type of unit right for you, the contractor will quote you an installation price. Typically, the longest part of the whole air conditioning installation process is the time between the consult and the actual installation, which we do not want to unnecessarily delay.
2. Schedule the installation
Your contractor will schedule an AC unit installation date and time with you. At Maverick Electrical, Heating & Air, we aim to get your unit installed as soon as possible.
The date of the installation will depend on the availability of the contractors and their teams. Usually, installations can be completed within just a few days.
3. Installation process
You can expect the actual installation process to be completed within 4-8 hours.
The installation contractor will unpack your AC unit and install any necessary ductwork. The air conditioner will be tested to make sure it is cooling the area before the contractor leaves.
Factors That Affect How Long It Takes to Install a New AC
Most air conditioners are installed in less than a day. The following factors may affect how long it takes to install a new air conditioner.
The size of the space
It will take longer to install an AC unit covering 8,000 square feet than in a space of only 2,000 square feet. Bigger spaces typically require a larger air conditioner or more than one AC unit to cool the house efficiently, so the installation process will take longer.
However, it is not just the square footage, but the total volume of the space affects the size of air conditioner you will require. For example, if you have higher ceilings, a larger air conditioner will be needed than in a building with the same square footage but lower ceilings.
The type of installation
How long an air conditioner installation takes will also depend on whether you are doing a full system replacement or a changeout. The difference is explained as follows:
Changeout: When you replace your old AC system with a new one, the ductwork will already be in place and will not need to be installed or repaired. In a changeout, the whole installation process can usually be completed in a day.
Full system replacement: If it is a brand-new HVAC system, the technicians will be installing new ductwork, a thermostat, and more. Since this extensive process is more complicated than a simple changeout, your system replacement could take 3-5 days to complete.
The type of AC unit
The type of AC you choose will likely depend on the layout of the space in question. Generally, the more complex the unit is, the more extended the installation has to take.
There are two different types of central air conditioners:
Split air conditioner: These types of air conditioners consist of two separate units: a condensing unit and an evaporator coil. The advantages of split air conditioners are that they can be placed in small spaces such as a closet, are usually less expensive and easier to maintain, and tend to be quieter than other units.
Packaged air conditioners: A packaged air conditioner has a condenser and a coil together in one single unit. A packaged air conditioning system is usually installed on your roof and is smaller, and more compact than a split air conditioner.
The prep work and location of the unit
The location of where the air conditioner is to be installed will affect the installation time. For example, installing a unit in a crawl space will take longer than an installation in a wide-open area.
If the installation technicians are unable to gain access to certain parts of your property, this may also increase the length of time it takes to install your new air conditioner. Additionally, some spaces require moving furniture or other HVAC prep work before installation can be done.
What You Can Expect From Us During the Installation Process
When you choose Maverick Electric, Heating & Air Services to install your AC, you can expect:
Experienced and trained technicians: When you purchase an air conditioner, a trained technician will be assigned to your home to complete the installation. The contractor is committed to your installation until completion before leaving to make another call.
Progress updates: We will give you progress updates through the installation process. You can be assured that our team does not take shortcuts and your air conditioner will be professionally installed.
Post-installation checklist: Once the installation is complete, the technician will review a post-installation checklist with you to ensure that you understand the manufacturer's instructions, you know how to use the units, and we have exceeded your expectations.
Contact Maverick Electric, Heating, & Air Services to Install a New AC Unit
Do not take chances with your new AC installation. Some companies rush through an air conditioner installation, just to have the unit break down soon after because the installation was done incorrectly.
However, when you trust your installation to Maverick Electric, Heating & Air, you can expect professional, efficient, and timely HVAC service. We work as quickly as possible to do an AC install while also ensuring the unit is installed safely and correctly the first time.
Hiring an inexperienced technician and HVAC company can mean wasted time and money. Our technicians go through an extensive training process to ensure that your air conditioning installation or AC repair is handled right the first time.
If you are considering buying a new air conditioning unit, contact Maverick Electric, Heating & Air today. Call us to discuss your AC installation options.