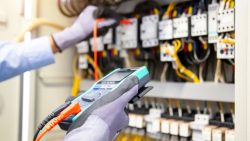 Your home is your sanctuary. But did you ever stop to consider if your sanctuary is electrically sound? Maverick Electric, Heating & Air, located in the heart of Roseville, CA, offers comprehensive electrical inspection services that ensure your peace of mind. Electrical inspection is not just a safety protocol — it's a vital service that safeguards your home, your appliances, and, most importantly, your loved ones. 
Ignorance may not always be bliss; hidden electrical problems could pose serious risks, from energy inefficiencies to devastating fires. Maverick's skilled professionals employ a detailed electrical inspection checklist, leaving no stone unturned. From a thorough home electrical inspection to an intensive electrical panel inspection, we ensure every wire, switch, and socket is up to code. 
Ready to schedule your inspection? Call us today at (916) 398-2768 or visit our contact page to get started with your inspection service.
Electrical Inspection and Your Home's Safety
Home safety goes beyond having fire extinguishers and smoke alarms — it involves taking proactive measures such as an electrical inspection. The importance of this service cannot be stressed enough. It helps prevent electrical fires, a leading cause of property damage and injuries in the home. 
More than this, it ensures all electrical work in your home adheres to local codes, which reduces the risk of electrocution. Electrical inspections performed by Maverick Electric, Heating & Air's certified professionals mitigate these risks, providing you with the assurance that your home is electrically sound and safe.
Signs That Electrical Inspection Is Needed
Some signs that you need an electrical inspection are obvious, but others are more subtle. Things to watch for include:
Frequently tripping circuit breakers

Flickering or dimming lights

Hot or discolored wall plates, cords, or plugs

Shock or mild tingle more than once from an appliance or wire
If you're noticing any of these signs in your Roseville home or business, it's a clear signal that it's time for a residential electrical inspection. Ignoring these signs can lead to escalating problems and potential safety hazards.
What Is Involved in an Electrical Safety Inspection
An electrical safety inspection is a meticulous process carried out by our skilled professionals. It starts with an evaluation of your home's electrical system capacity to see if it can support your current usage. We then inspect the electrical panel for any outdated or faulty wiring that could lead to fires or electrocutions. 
The inspection also includes checking all outlets, switches, and light fixtures to ensure they are safe and operational. All these checks follow a detailed electrical inspection checklist to ensure nothing is overlooked. Remember, it's not just an inspection — it's an investment in the safety and longevity of your home.
Frequently Asked Questions About Electrical Inspection
What Is the Purpose of an Electrical Inspection?
An electrical inspection is designed to ensure that all electrical systems and components in your home meet safety standards. It helps in detecting potential electrical problems that could lead to electrical fires or electrocutions.
How Often Should I Get an Electrical Safety Inspection?
It's recommended to have a home electrical inspection every three to five years. However, if you're purchasing a new home, have old wiring, or are adding new large appliances, you should get an inspection immediately.
What Should I Do After a Residential Electrical Inspection?
Post-inspection, it's essential to address any issues identified. Regular maintenance and adherence to the suggested safety measures will help keep your electrical system safe and efficient.
Tips for Maintaining Your Electrical System
Taking care of your electrical system between inspections is crucial for its longevity and your safety. Here are a few tips:
Regularly check for signs of frayed wires, flickering lights, or frequently tripped circuit breakers. These can indicate underlying electrical problems.

Limit the use of extension cords. They should be a temporary solution, not a permanent setup.

Don't overload your outlets. Plugging too many appliances into one outlet can cause overheating.

Replace outdated, damaged, or warm outlets. These are serious risks and could lead to electrical fires.
Remember, an ounce of prevention is worth a pound of cure. Regular maintenance not only prolongs the life of your electrical system but also contributes significantly to your home's safety.
Electrical Inspection: Your Safety Net in Roseville, CA
Electrical inspections, while often overlooked, play an important role in maintaining the safety of your Roseville home. Professional inspections serve as an early warning system, identifying potential electrical hazards before they morph into full-blown disasters. And when it comes to this critical service, Maverick Electric, Heating & Air stands out with our commitment to quality, thoroughness, and customer satisfaction. Our certified professionals leverage an extensive electrical inspection checklist to ensure no aspect is overlooked. Whether you need a comprehensive home electrical inspection, a detailed and focused electrical panel inspection, or electrical repair services, we have you covered.  
So why wait for an electrical problem to strike? Secure your home today. Contact our team online or call us at (916) 398-2768 to schedule your electrical inspection in Roseville right away.
To Find Out More About Our Sacramento Area Electrical Repair Company and Our Service, Call Maverick Electric, Heating & Air today.